This is an archived article and the information in the article may be outdated. Please look at the time stamp on the story to see when it was last updated.
About 4,000 Los Angeles County social workers went on strike Thursday, protesting what they describe as unfair labor practices, union officials said.
At 10 a.m., the employees began picketing outside more than 16 offices of the Department of Children and Family Services.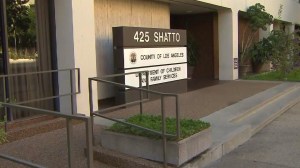 "We've done everything we can to convince L.A. County leaders to pay attention to child safety, but they've flat-out refused," Chychy Ekeocha, chair of the Children's Social Workers, who are represented by Service Employees International Union Local 721. "They may have given up on the county's most valuable children, but we haven't."
The strikers are calling for fewer case loads in order to spend more time caring for children, and for the hiring and training of more social workers.
Contract talks with the Board of Supervisors broke down earlier this week.
"It is disappointing that they are willing to take an action that will have such a serious impact on public services when we are so close to finalizing an agreement," county Executive Officer William T. Fujioka said, referring to the union.
Last spring, 8-year-old Gabriel Fernandez died after allegedly being beaten by his mother and her boyfriend. The two adults were charged in connection with the boy's death.
A Los Angeles Times investigation found that Gabriel remained in the house where the alleged abuse occurred, despite six investigations by Los Angeles County social workers over the past decade.
The Los Angeles Times contributed to this report.