This is an archived article and the information in the article may be outdated. Please look at the time stamp on the story to see when it was last updated.
Thousands of Los Angeles County workers, whose contract expired at midnight, walked off their jobs on Tuesday.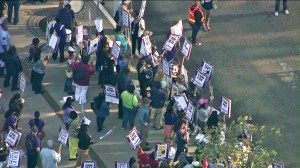 The workers gathered at California Plaza at 350 S. Grand Ave. about 9 a.m. before marching to the County Hall of Administration at 500 W. Temple St.
The workers' union, SEIU Local 721, said employees have gone without a raise for five years and the county has rejected numerous proposals.
Union leaders called on county representatives to go back to the bargaining table, according to a media release.
A county spokesperson said they have a proposal for a tiered increase totaling 6 percent by April 2015.
"Now that the economy is starting to improve. What we've done is we put a reasonable and responsible salary increase on the table," William Fujioka, L.A. County CEO, Said.
SEIU Local 721 represents more than 55,000 L.A. County employees, according to the release.