This is an archived article and the information in the article may be outdated. Please look at the time stamp on the story to see when it was last updated.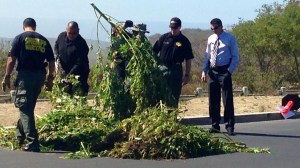 Narcotics investigators were working Friday to pull out and remove thousands of marijuana plants that were growing in a wilderness park in Orange County near Laguna Beach.
About 2,500 to 4,000 plants in various stages of maturity were found in the Muddy Canyon area of Laguna Wilderness Park, according to the Orange County Sheriff's Department.
Investigators planned to hike to the rugged area and manually pull out the plants. A department helicopter called "Duke" was set to airlift the plants to nearby Coastal Peak Park, where they were to be packaged for evidence.
The plants were worth about $5 million, according to the Sheriff's Department.
OC Parks personnel discovered the plants a few weeks ago, after they had been growing for some time.
The plants were in an area south of the 73 Freeway toll road, east of Newport Coast Drive, near Ridge Park Road and East Coastal Peak (map), according to the Sheriff's Department.
"To find a grove of this size, of this magnitude, in an area so close to a really nice residential area, is quite unique," said Sheriff's Department Lt. Jeff Hallock.
An investigation was ongoing. There were no suspects, Hallock said.
The plants were set to be booked into an evidence room for use in prosecution against potential future suspects.
Neighbors were shocked by the discovery.
"Did someone really think they were going to get away with this … in this area, and so visible?" resident Vivian Rice said.
Anyone with information on the pot operation was asked to call the Orange County Sheriff's Department at 714-647-7000. Anonymous tips could be sent to 855-847-6227 or occrimestoppers.org.
KTLA's Melissa Pamer contributed to this article.
#OCSDPIO: First load of marijuana plants dropped at Coastal Peak Park to be packaged for evidence. pic.twitter.com/m13sbwo6Mi

— OC Sheriff, CA (@OCSheriff) August 15, 2014
#OCSDPIO: Airship "Duke" staged at Coastal Peak Park preparing to assist with marijuana eradication effort pic.twitter.com/1SI6zccaf2

— OC Sheriff, CA (@OCSheriff) August 15, 2014