This is an archived article and the information in the article may be outdated. Please look at the time stamp on the story to see when it was last updated.
Thousands of small crabs native to the waters off Baja California have washed up on beaches in Orange and San Diego counties, coating the sand in a spiky layer of red.
The crustaceans — Pleuroncodes planipes, known as red crabs, or tuna crabs — began appearing in great numbers last week. Out of the water, they become stranded and typically perish, leaving their bodies to decay on the beach.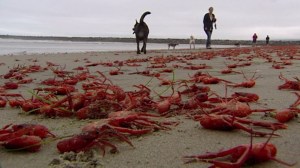 The crabs were first reported in San Diego and then ventured up the coast, with thousands appearing as far north as Huntington Beach on Sunday. They were also reported in Newport Beach in January, according to the Los Angeles Times.
About 1 to 3 inches in length, the crabs look like small lobsters. They often appear in El Niño years, prompted to venture north by warmer Pacific Ocean currents.
The crabs travel in dense schools in the spring and sometimes wash ashore, the San Pedro-based Southern California Marine Institute's director told the Times.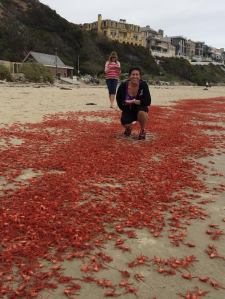 They appeared in the late 1990s locally and then several years later in the Channel Islands, the Times reported.
"They often hang around with tuna, and tuna love to eat them," Charina Layman, education manager of La Jolla's Birch Aquarium, told KFMB. "We see this occur every few years, and right now the water is a little bit warmer off our coast."
A park ranger at Doheny State Beach said the water temperature on Sunday was 72 degrees.
Orange County lifeguards were asking people not to touch or take the crabs from marine protected areas, the OC Register reported.
Weekend beachgoers, meanwhile, were posting photos of the striking invasion to social media.