This is an archived article and the information in the article may be outdated. Please look at the time stamp on the story to see when it was last updated.
This is a developing wildfire story. Please check back frequently for updates.
An out-of-control brush fire that erupted in the Angeles National Forest about 4 miles east of Sylmar Tuesday has burned 12,605 acres – or about 20 square miles – as of Wednesday evening, officials said.
About 30 structures have been destroyed in the fire, including 20 in the Kagel Canyon area and 10 in the city of Los Angeles, the Los Angeles Fire Department stated in an update. Some 2,500 structures remained threatened.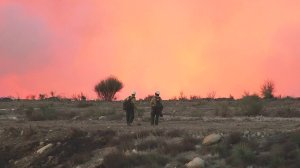 A mandatory evacuation order were still in effect Wednesday night for the area north of the 210 Freeway from Lowell Boulevard on the east to the Glenoaks Boulevard off ramp on the west. Evacuations have also been ordered in the Shadow Hills area, between Wentworth Street to the north, Wheatland Avenue on the west and Sunland Boulevard to the south.
Many Los Angeles Unified schools will be closed Thursday and Friday due to the fire. A full list is on the school district's website.
Containment was 5 percent as of 8:11 p.m., according to the Cal Fire website.
Some 1,600 personnel have been called to respond to the fire, which was being pushed by wind gusts between 50 and 65 mph, authorities said. Two Los Angeles Fire Department firefighters were injured battling the blaze – one in a bulldozer rollover and another by the explosion of a propane tank. Both were doing well, Terrazas said.
The county Sheriff's Department estimated about 250,000 people were under an evacuation order; in the afternoon Garcetti said 110,000 households were affected.
The fire crossed the 210 Freeway between Sunland Boulevard and Wheatland Avenue Tuesday night. The freeway was closed through the day Tuesday but reopened about 5 a.m. Wednesday.
[googlemaps https://www.google.com/maps/d/embed?mid=1p4yJENK8QwSepW0sNrN2B3P8TUAToRt6&w=640&h=480]
Several evacuation centers were open to the thousands in need at the following locations:
Sylmar Recreation Center (13109 Borden Ave., Sylmar)
Branford Recreation Center (13306 Branford St., Pacoima)
Ritchie Valens Recreation Center (10736 Laurel Canyon Blvd., Pacoima)
Sun Valley Recreation Center (8133 Vineland Ave., Sun Valley)
Sepulveda Recreation Center (8825 Kester Ave., Panorama City)
Granada Hills Recreation Center (16730 Chatsworth St., Granada Hills)
Stonehurst Recreation Center (9901 Dronefield Ave., Sun Valley)
Valley Plaza Recreation Center (12240 Archwood St., North Hollywood)
North Hollywood Recreation Center (11430 Chandler Blvd., North Hollywood)
Chatsworth South Recreation Center (22360 Devonshire St., Chatsworth)
Van Nuys Sherman Oaks Recreation Center (14201 Huston St., Sherman Oaks)
Mason Recreation Center (10500 Mason Ave., Chatsworth)
Balboa Recreation Center (17015 Burbank Blvd., Encino)
Lanark Recreation Center (21816 Lanark St., Canoga Park)
Chevy Chase Recreation Center (4165 Chevy Chase Drive, Atwater Village)
Yosemite Recreation Center (1840 Yosemite Drive, Eagle Rock)
Woodland Hills Recreation Center (5858 Shoup Ave., Woodland Hills)
Delano Recreation Center (15100 Erwin St., Van Nuys)
Victory Vineland Recreation Center (11117 Victory Blvd., North Hollywood)
Glassell Recreation Center (3650 Verdugo Road, Glassell Park)
For small animals:
West Valley Animal Shelter (20655 Plummer St., Chatsworth)
East Valley Animal Shelter (14409 Vanowen St., Van Nuys)
For large animals:
Pierce College (6201 Winnetka Ave., Woodland Hills)
Antelope Valley Fairgrounds (2551 W. Ave. H, Lancaster)
The fire was first reported about 3:45 a.m. in the 11300 block of North Riverwood Drive, the Los Angeles Fire Department stated in a news release Tuesday night. Earlier, officials said the fire broke out near Gold Creek Road and Little Tujunga Canyon.
The cause of the fire is still under investigation.