This is an archived article and the information in the article may be outdated. Please look at the time stamp on the story to see when it was last updated.
The threat made against LAUSD and schools in New York City is a hoax, according to a preliminary assessment, according to a Los Angeles-area congressman who is on the U.S. House Intelligence Committee.
Rep. Adam Schiff, a Democrat whose district includes a large swath of L.A., plus Glendale and Burbank, said Tuesday afternoon that the threat was a "hoax or something designed to disrupt school districts in large cities."
He released the statement after a preliminary briefing.
All Los Angeles Unified School District campuses were closed Tuesday due to the threat, and Los Angeles Police Department Chief Charlie Beck defended the decision.
"It is very easy in hindsight to criticize the decision based on results that the decider could never have known. It is also very easy to criticize the decision when you have no responsibility for the outcome of that decision," Beck said at a midmorning news conference.
New York City Police Commissioner Bill Bratton, Beck's predecessor with LAPD, had said a similar threat was deemed a hoax.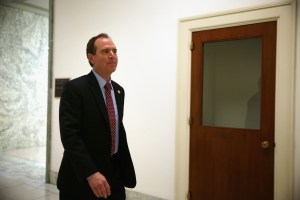 Schiff's statement in full follows:
While we continue to gather information about the threat made against the Los Angeles and New York School Departments, the preliminary assessment is that it was a hoax or something designed to disrupt school districts in large cities. The investigation is ongoing as to where the threat originated from and who was responsible.

 The safety of our communities and particularly our young people is paramount. At the same time, in an environment in which it is very easy to transmit threats, real and otherwise, and when fear and disruption may be the goal as well as the effect, communities and law enforcement will need to make a difficult judgment as to how to respond in a variety of circumstances. The goal of the intelligence and federal law enforcement community should be to assist local authorities with as timely information as possible to help inform those judgments.  I will continue to urge the intelligence and federal law enforcement community to share as much information as it can, as quickly as it is able.
Earlier, Rep. Brad Sherman, a Democrat whose district includes much of the San Fernando Valley, said he had seen the email that prompted the cancellation of classes.
"The author claims to be an extremist Muslim who has teamed up with local jihadists. We do not know whether these claims are true or a lie," Sherman said in a statement. "The only thing we know is that the email was sent by an evil person."
The types of violence were very specific about type of violence but not which schools would be targeted, Sherman told KTLA in a live interview Tuesday afternoon.
"What lacks a little credibility is a claim that the writer would be joined by 32 comrades," Sherman said. "To think that there were 33 individuals ready to die today and that federal authorities hadn't even raised the threat level would be surprising."
The threat made to New York schools included a claim that 138 people were involved, making that less credible, Sherman said.
"The purpose of terrorism is not necessarily to blow things up, and to cause casualties, but to create fear," Sherman said. "This email did just that at very little cost to whoever sent it."