This is an archived article and the information in the article may be outdated. Please look at the time stamp on the story to see when it was last updated.
Former NFL player Jonathan Martin was taken into LAPD custody in connection with a social media post that prompted Harvard-Westlake to close its two campuses Friday, a source told the Los Angeles Times.
Police, who declined to identify the person detained over the post, said the individual was later released.
Martin, who graduated from the elite private school a decade ago, posted an image of a shotgun to his verified but private Instagram account, writing "When you're a bully victim & a coward, your options are suicide or revenge."
The post included the hashtags #HarvardWestlake and #MiamiDolphins, his former professional football team.
A screenshot of the Instagram story was posted by Twitter user Nick Brown.
Former Dolphins OL Jonathan Martin with some seriously disturbing stuff on his IG story… pic.twitter.com/NaJ8a0BXze

— Nick Brown (@NickyBeaster) February 23, 2018
Los Angeles Police Department officials confirmed an individual has been detained in connection with the incident, but have not identify the person. By early evening, LAPD Office Tony Im said the person responsible for the social media post had been detained but was no longer in police custody.
Police would not provide the name of the the individual who was questioned.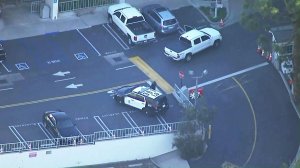 Earlier Friday, LAPD Officer Tony Kuey told KTLA that Harvard-Westlake's Studio City and Beverly Crest campuses were closed after a former student used Instagram to say he wanted to seek revenge for alleged bullying he underwent while he attended.
The former student, who is now an adult, made no direct threat against the schools, Kuey said.
LAPD Sgt. Frank Albarran told the L.A. Daily News that the post that prompted the school closure said something like, "When you're a victim of bullying, an option is revenge."
Albarran also said the picture included a gun and a reference to the school in a hashtag, a description that matches the screenshot tweeted by Brown.
Martin left the Dolphins in 2013 after accusing former teammates, including Richie Incognito, of bullying him, according to CNN.
In social media posts from 2015, the same year he retired, Martin revealed that he attempted suicide while playing in the NFL, the Times reported. He also detailed previous struggles with football, saying he didn't fit in at Harvard-Westlake.
"You learn to tone down your size & blackness by becoming shy, introverted, friendly, so you won't scare the little rich white kids or their parents," Martin wrote, according to the Times. "Neither black nor white people accept you because they don't understand you. It takes away from your self-confidence, your self-worth, your sanity."
Extra patrols were put in place around the Harvard-Westlake campuses Friday, Kuey said. The decision to close the campuses was made by school officials, not police, the LAPD officer added.
Harvard-Westlake issued a statement on the situation Friday.
Last evening, we learned of an Internet post that mentions Harvard-Westlake by name. Out of an abundance of caution, and because the safety of our students, faculty, and staff is our top priority, we made the decision to close school today. We are working closely with law enforcement and will share more information when we are able.
The incident comes a week and a half after a mass shooting at a high school in Parkland, Florida, left 17 people dead. Since then, authorities in the Los Angeles area have scrambled to respond appropriately to the  high number of threats against schools in the region.
"We cannot afford to not act on any threat," L.A. County Sheriff Jim McDonnell said, according to the Times. "You have to be hypervigilant on them because, God forbid, if one of them is an actual someone willing to do something. You cannot take that chance."
KTLA's Jennifer Thang, Nidia Becerra and Melissa Pamer contributed to this report.