This is an archived article and the information in the article may be outdated. Please look at the time stamp on the story to see when it was last updated.
Threatening words were found spray-painted on a wall and a garage door outside a West Adams neighborhood auto repair shop where several cars caught fire early Tuesday morning.
Firefighters responded to a vehicle fire outside Richard's Auto Repair in the 3500 block of South Crenshaw Boulevard about 2:43 a.m., according to Los Angeles Fire Department spokesman Erik Scott.
Five vehicles were damaged in the fire, but firefighters managed to keep the flames from spreading to nearly two dozen others, Scott said.
The shop's owner and manager rushed to the shop when friends called to tell them about the flames.
"Everybody knows me around Crenshaw for more than 20, 25 years," owner Richard Bermudez said. "I'm a Christian and don't expect all these things."
Video from the scene showed the words "I will kill your family Richard" spray-painted in red on a garage near the burning cars. Also, the words "I will kill you" had been spray-painted on the auto repair shop's wall.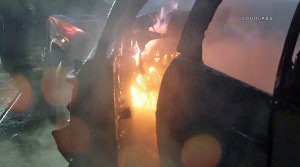 Arson investigators are treating the fire and the graffiti threat as related incidents, and have deemed the fire as suspicious, fire Investigator Brian Bueller said. The threatening messages add to the level of suspicion, he added.
Investigators are hopeful that evidence collected at the scene, as well as victim and witness statements, will help them find the person or persons responsible, Bueller said.
The fire was contained to the parking lot, leaving three nearby businesses intact, Scott said. No injuries were reported in the incident.
Bermudez said he was working to notify the vehicles' owners. Those he had spoken to were understanding, he said.
KTLA's Melissa Pamer contributed to this article.