This is an archived article and the information in the article may be outdated. Please look at the time stamp on the story to see when it was last updated.
A 15-year-old who was arrested Sunday on suspicion of posting death threats to social media against Santa Clarita Valley high school students had no weapons and apparently had no plans to carry out the attack, according to the Los Angeles County Sheriff's Department.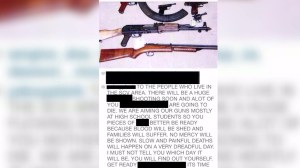 The threats posted to Instagram contained images of guns and dead bodies alongside claims that students would be shot and families would be made to suffer, Santa Clarita Valley Sheriff's Station Lt. Tom Bryski said.
The Santa Clarita Valley Sheriff's Station received at least 25 calls beginning around 10 p.m. Saturday from concerned citizens who had seen the threats, L.A. County Sheriff's Department Lt. Brenda Cambra stated.
"We want people to know that we are looking into this, we take it seriously, and we've already discovered that those photos are not real, they are stock (images)," Cambra said prior to the arrest.
The male juvenile who was arrested was a student at one of the Santa Clarita Valley high school and appeared to have made the threats to get a reaction from friends, a Sheriff's Department news release stated.
No firearms were found at the teen's home, and the minor appeared to have acted alone.
Making criminal threats was a felony, even if the posts were a hoax, according to officials.
"We are aiming our guns mostly at high school students … blood will be shed and families will suffer," a post stated, next to a photo of multiple guns.
There was no evidence that the person who posted the images had access to the guns pictured because the photos were stock images obtained online, Cambra said.
"Valencia High School has been nominated to be shot up first," one post stated, alongside an image of the campus's marquee.
The image was discovered to be of a similarly named school not located in the Santa Clarita Valley, Cambra said.
"Slow and painful deaths will happen on a very dreadful day. I must not tell you which day it will be, you will find out yourself," another post stated.
Threats were also of a racist and sexist nature, Cambra said.
"Death makes the world go round," a third post stated, paired with an image of dozens of people who appeared to have been shot execution style.
The Instagram account has since been deleted. Officials stated that the social media site had assisted with the investigation.
Security at local schools, with a special focus on high schools, was planned for Monday, officials said at a news conference.
"We are happy with the quick response of the Sheriff's Department, and we are looking forward for a safe school year," spokeswoman for the district Gail Pinsker stated after the minor was detained.
Prior to the arrest, the district stated that "extra precautions" would be taken Monday, a Facebook post stated.
"We take threats of this nature very seriously and we are working closely with the L.A. County Sheriff's Department. Extra precautions will be taken to ensure the safety of our students and staff on all of our campuses, while this is being investigated," the district superintendent stated in the post.
Early Sunday morning, one parent told KTLA she was not planning on sending her three children back to school until she felt reassured by the Sheriff's Department.
"I cannot risk having my children go in at the assumption that it may or may not be a hoax," Jennifer Rosario said. "Especially with everything that's happened across America, you don't know."
Other parents told KTLA many stayed up all night worrying about the posts, while another said the whole experience was "very upsetting."
The minor was booked at the Santa Clarita Valley Sheriff's Station and was expected to be released into the custody of the Los Angeles County Probation Department.
"Santa Clarita Valley Station would like to remind all those that use social media to do so with care," a Sheriff's Department news release stated. "Parents should have an open dialog with their teenagers about the ramifications of posting photos and statements which might constitute a crime or cause other issues."
Anyone with information about the posts was asked to call the Santa Clarita Valley Sheriff's Station at 661-255-1121. Callers could remain anonymous by contacting the L.A. Regional Crime Stoppers at 1-800-222-TIPS (8477).