This is an archived article and the information in the article may be outdated. Please look at the time stamp on the story to see when it was last updated.
More than a decade after the body of 15-year-old Brenda Sierra was found in the San Bernardino Mountains, three men have been charged with murder in connection with her 2002 death, the Los Angeles County District Attorney's Office announced Wednesday.
Sierra was abducted on Oct. 18 2002, while was walking to a friend's house on her way to Schurr High School in Montebello.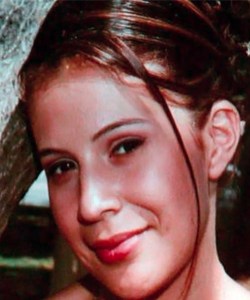 Her body was found the next day in the mountains. She had been raped and beaten to death by blunt force trauma to the head, prosecutors stated.
Eddie Chavira, Daniel Cervantes and George Barraza were charged along with co-defendant Rosemary Chavira for conspiring to kill the teenager after she witnessed a shooting, the DA's office stated.
Chavira allegedly told a fellow Lott gang member that he was going to have other Lott gang members take care of the witnesses, prosecutors said.
About the same time, he contacted his 15-year-old sister, Rosemary Chavira, to assist in getting other gang members to take care of Sierra, according to a news release from the DA's office.
Cervantes, Barraza and Rosemary Chavira, who pleaded not guilty in March, were each charged with one count of murder, conspiracy to dissuade a witness and forcible rape with the special circumstances of felony murder during commission of a kidnapping and to further a street gang, the release stated.
Eddie Chavira, currently in prison on an unrelated manslaughter conviction, was charged with one count each of murder and conspiracy to intimidate a witness.
He faced 25 years to life if convicted as charged.
Because Rosemary Chavira was a minor at the time of the murder, she faced life in prison without the possibility of parole if convicted as charged.
Prosecutors had not decided whether to seek the death penalty against Cervantes and Barraza.
No arraignment date was set for Eddie Chavira or Cervante. Barraza remained a fugitive.