This is an archived article and the information in the article may be outdated. Please look at the time stamp on the story to see when it was last updated.
Three young mountain lions were found dead in the Santa Monica Mountains in recent weeks, the National Park Service announced Friday.
One of the big cats was known as P-34 by researchers who began following her when she was only 3 weeks old.
Her body was discovered on Sept. 30 by a runner on a trail in Point Mugu State Park, according to a news release from the Park Service.
"Based on the preliminary results of a necropsy, which showed significant amounts of free blood in her chest cavity and around her heart, it appears that she died as a result of rodenticide poisoning," according to Ranger Kate Kuykendall.
Widespread exposure to rat poisons has been document by the Park Service in and around the Santa Monica Mountains.
"Two other mountain lions and many coyotes have died directly as a result of poisoning, and exposure to the poisons has been associated with a severe disease epidemic in bobcats," according to Kuykendall.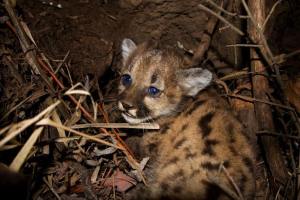 In a separate incident last month, the remains of a mountain lion dubbed P-43 and a previously unknown sibling were found in a remote part of the eastern Santa Monica Mountains, the Park Service stated.
The two kittens were only three months old and had been consumed by another animal, according to the release.
DNA results were expected to provide more information on the species of animal involved in the attack. Researchers said the tests may even be able to identify the specific individual, if it was one of the collared mountain lions being studied.
Scientists are currently tracking 10 animals in the region.
Santa Monica Mountains National Recreation Area (SMMNRA) is the largest urban national park in the country, encompassing more than 150,000 acres of mountains and coastline in Ventura and Los Angeles counties, according to the Park Service.
Click here for information on a campaign to build a 165-foot-wide, 200-foot-long wildlife overpass bridge  near Liberty Canyon Road that would connect the Santa Monica Mountains on the south with the Simi Hills and Santa Susana Mountains.