This is an archived article and the information in the article may be outdated. Please look at the time stamp on the story to see when it was last updated.
A winning ticket for Saturday's $20 million SuperLotto Plus jackpot was purchased at a donut shop in Fontana, the California Lottery said.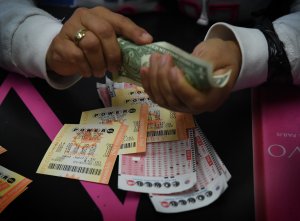 The winning digits in the draw were 10, 29, 41, 45 and 46 with 10 as the Mega number.
The ticket was sold at Miss Donuts & Bagel located at 9920 Sierra Ave., lottery officials said.
As of Sunday afternoon, no one had publicly come forward as the winner.
The SuperLotto Plus jackpot has now been reset to the base of $7 million ahead of the next drawing on Wednesday evening.
The odds of winning any prize for the drawing are about 1 in 23, but chances of winning the jackpot are 1 in 42 million.
Prize money for SuperLotto Plus begins at $1, an amount that was won by 96,853 Californians on Saturday.