This is an archived article and the information in the article may be outdated. Please look at the time stamp on the story to see when it was last updated.
According to a report published in "The Hollywood Reporter," the disclaimer often seen at the end of a movie stating that no animals were harmed isn't necessarily true.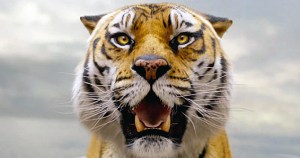 The trade publication wrote that despite the oversight by American Humane Association, many animals have been injured or even died on movie sets.
One example cited by the trade publication occurred during the filming of the Academy Award winning film, "Life of Pi."
The Reporter said the tiger named King nearly drowned while shooting ocean scenes after becoming disoriented.
In an internal email obtained by "The Hollywood Reporter," an AHA monitor on the set said: "… Last week we almost [f—ing] killed king in the water tank."
Gina Johnson is no longer an AHA employee, the organization told CNN Tuesday.
Johnson's email reads, "The worst thing was that last week we almost f—ing killed King in the water tank. This one take with him went really bad and he got lost trying to swim to the side. Damn near drowned. … I think this goes without saying but DON'T MENTION IT TO ANYONE, ESPECIALLY THE OFFICE. I have down-played the f— out of it."
The AHA responded, telling CNN: "The email of the employee in question led to an internal investigation and there was no evidence of any harm to the tiger as determined after multiple inquiries."
The movie studio disputed the claim that the tiger nearly drowned saying: "we take on-set safety very seriously."
Animal rights groups, however, say this is a problem that has plagued the movie industry for years—
The AHA was present on the set of HBO's TV series "Luck" which was cancelled in 2012 after three horses died.
The AHA released a statement in response to "The Hollywood Reporter" saying in part: "The article paints a picture that is completely unrecognizable to us or anyone who knows American Humane Association's work.
Far from allowing abuse or neglect to occur, we have a remarkably high safety record of 99.98 percent on set."
CNN contributed to this report.