This is an archived article and the information in the article may be outdated. Please look at the time stamp on the story to see when it was last updated.
Tiny wooden homes on wheels, roughly the size of garden sheds, have popped up on San Pedro streets as a temporary way to house the homeless.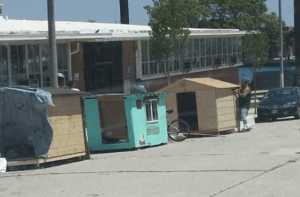 The wooden structures are reminiscent of the small home created by a South Los Angeles man that became famous through a viral video, drawing millions of viewers on YouTube and spurring tens of thousands of dollars in donations to build more tiny homes for those in need.
But after a handful of similar structures appeared in San Pedro, Los Angeles City Councilman Joe Buscaino said he wants them removed immediately, calling them "a threat in many ways to our public safety."
The councilman complained the movable homes lacked running water, sewer connections or reflective markings to make them more visible to passing drivers at night. Three have been set up near a county clinic in recent days.
Click here to read the full story on LATimes.com.