This is an archived article and the information in the article may be outdated. Please look at the time stamp on the story to see when it was last updated.
An on-duty Los Angeles school police sergeant sustained minor injuries after a tire smashed into his vehicle's windshield on a downtown freeway Wednesday morning.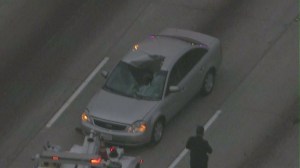 The incident occurred on the northbound 110 Freeway at around Figueroa Street shortly before 6 a.m., according to LAUSD Police Sgt. Ronan Loving.
It appeared that a truck pulling a trailer in southbound lanes lost a tire, which crossed into the northbound lanes, Loving said. After hitting the sergeant's vehicle, it bounced across the freeway back into southbound lanes.
The vehicle's windshield was smashed and part of the roof received major damage, aerial video showed.
Several lanes were temporarily closed on the freeway.
The incident was under investigation by multiple agencies, including the California Highway Patrol, the Los Angeles Police Department and the Los Angeles Fire Department, according to Loving.
KTLA's Justin Burton contributed to this report.