This is an archived article and the information in the article may be outdated. Please look at the time stamp on the story to see when it was last updated.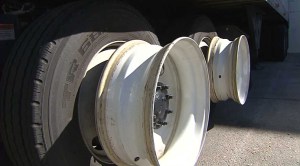 RIVERSIDE, Calif. (KTLA) — The largest food bank in the Inland Empire has been the target of thieves.
Second Harvest, which serves 400 nonprofit agencies that feed 400,000 people every month, announced Monday that thieves had stolen the tires from six of the charity's eight delivery trucks.
A worker discovered the crime around 6:30 a.m. Monday.
Police say thieves cut the valve stems, deflated the tires, then used soap and water to slip them off the rims.
The loss of the tires, with an estimated value of about $10,000, rendered the food bank's fleet useless.
But when officials at Walmart heard about their plight they offered to replace all the tires.
Walmart supplies hundreds of thousands of pounds of food annually to Second Harvest.
For more information on Second Harvest: http://www.secondharvest.us/