This is an archived article and the information in the article may be outdated. Please look at the time stamp on the story to see when it was last updated.
The parents of a 23-month-old Pasadena girl who was diagnosed with an aggressive form of leukemia are racing to find a bone marrow donor for the little girl, who they say has just a few months to live.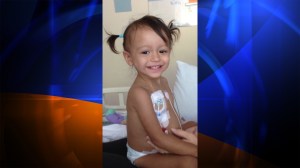 Sofia Flores needs a marrow transplant to combat acute myeloid leukemia, according to A3M, a Los Angeles nonprofit that is helping Sofia's parents seek a match for the little girl.
"Without a bone marrow transplant, she will not survive," said Erica Westfall, Sofia's mother.
Sofia's parents have spent the past three months in and out of the hospital with their daughter, who is undergoing chemotherapy.
"She's fighting to survive and she doesn't even know it," her father Ignacio Flores said.
Sofia has not found a donor through the Be the Match registry, in part because her mixed-race ethnicity makes it difficult to find a compatible donor, according to A3M. Sofia is half white and half Mexican.
Patient-donor matches are determined by DNA markers, and the better the match, the more likely Sofia's body will be to accept the transplant.
Now the family and A3M are pushing to get Latinos to sign up for the registry, which takes just a mouth swab. Sofia's parents say it gives them hope.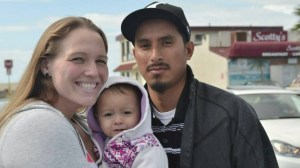 The organization is urging willing potential donors between the ages of 18 and 44 who meet health guidelines to visit an upcoming marrow drive or request a home-testing kit be mailed to them.
A donor drive is being held for Sofia from 4 to 7 p.m. Thursday, Oct. 17, at Woodrow Wilson High School, 4500 Multnomah St. in El Sereno.
Donors can also join the registry at A3M's downtown Los Angeles offices by making an appointment between 9:30 a.m. and 6 p.m. More information about drives and becoming a donor is on A3M's website.
KTLA's Melissa Pamer contributed to this report.