This is an archived article and the information in the article may be outdated. Please look at the time stamp on the story to see when it was last updated.
A 17-month-old girl has died and her identical twin continues to fight for her life after the two toddlers fell into a pool in Moreno Valley and suffered traumatic brain injuries about two weeks ago, the family said Monday.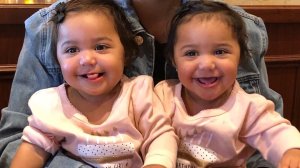 Their parents have barely slept as they cope with the loss of one child and pray for the recovery of the other.
"We're not able to fully grieve because we have to be strong for Makayla. She's here and she's fighting," said the girls' father, Jeremiah Edwards.
In the early evening hours of April 29, Makayla and her sister Maya managed to push a screen off a breeze window and climb out of a home in the 11000 block of Steeplechase Drive, according to a GoFundMe campaign.
The girls' mother, Erika Alvarado, said she and Edwards dozed off for a few minutes while the toddlers had been playing in the living room.
When Alvarado awoke, the twins were gone, though all the doors had been locked.
She ran to the backyard, to the pool, where she spotted just one of her daughters in the water.
"Jumped in, grabbed her," Alvarado said. "I was working on Maya. He saw Makayla in the shallow end."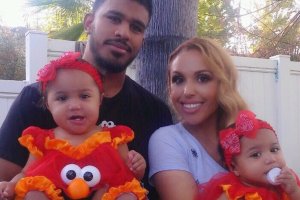 They called 911 and performed CPR, but neither girl had a pulse, Alvarado said.
A Riverside County sheriff's corporal who was patrolling the neighborhood said he heard shouting and went to help, arriving before any other deputies or paramedics.
"I heard someone screaming from inside the house," Rafael Victoria told Palm Springs television station KESQ in an interview last Monday.
Victorio said he and other first responders also performed CPR on the children until paramedic help arrived.
When firefighters got there, they took the girls to a local hospital by ambulance, according to the Riverside County Fire Department.
They had extensive brain damage and were both medically sedated, Alvarado said.
After being transferred to Loma Linda University Children's Hospital, they were placed in the pediatric intensive care unit, the GoFundMe stated.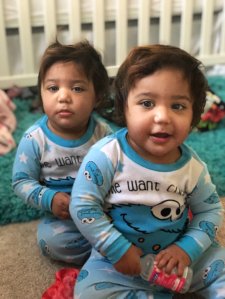 On May 12, the same day that Makayla woke up, Maya died after being taken off life-support. Her organs have been donated, including her heart to a baby who needed a transplant, Jeremiah Edwards said.
"I can't wait to meet that kid," he said.
Makayla, meanwhile, remains in critical condition, according to a statement the family provided to KTLA through a relative who works at the station.
"That twin connection that people tell us about — she's thriving off of that," Alvarado said of her daughter. "She hopefully knows that her sister is watching over her."
The GoFundMe, which was initially set up on May 6 to help the family pay medical bills, has raised more than $32,000 as of early Monday evening. The campaign is seeking to raise at least $35,000.
The family's pool was not fenced, and the parents never thought the girls would be able to access it, Alvarado said.
"We just pray that families can take from this," Alvarado said.
KTLA's Jennifer Thang contributed to this story.