This is an archived article and the information in the article may be outdated. Please look at the time stamp on the story to see when it was last updated.
Authorities were trying to locate the parents of two young children who were found wandering alone near a liquor store in South Los Angeles Monday.
Police received several calls about the abandoned children seen near West Manchester Boulevard and Stanford Avenue at about 9 a.m., according to Lt. Louis Paglialonga of the Los Angeles Police Department.
Luis Rodriguez was working on his truck, which broke down in the neighborhood Monday morning, when he saw the kids walking in the street.
"They were just two kids alone. Nobody around to take care of them," Rodriguez said.
Rodriguez estimated the older child was about 3 years old and the other probably wasn't even 2. Both of them were boys, according to Rodriguez.
The younger boy was soiled in feces, said Markeisha Hall, who was in the neighborhood to pick up a friend.
Hall got a towel from her friend's home and helped clean up the boy before authorities arrived.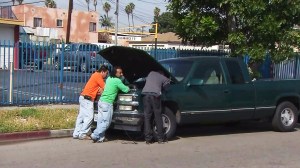 The older child was found in a nearby apartment in the 600 block of East 85th Street, according to Paglialonga.
The condition of the apartment was "deplorable" and "unfit for children," Paglialonga said.
It was unclear if the children lived in the apartment, but authorities did find information that may lead to the identity of the mother, Paglialonga said.
"Both of the children are safe and we owe that completely to the public for calling in," Paglialonga said.
The Los Angeles County Department of Children and Family services was assisting in the investigation into child endangerment and child neglect.
"I thank God we all came to the babies' rescue," Hall said. "This could have been a tragic morning."
Anyone with information was urged to contact the 77th Street Community Police Station at 213-485-4164, or call the LAPD's 24-hour anonymous tip line at 877-LAPD 24-7.