This is an archived article and the information in the article may be outdated. Please look at the time stamp on the story to see when it was last updated.
Southern California diners may think they've seen it all in this region with cuisine from across the globe.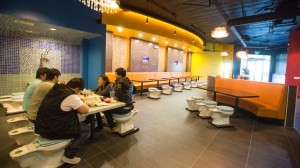 But have they munched on stinky tofu while seated atop a toilet?
Now local gourmands — or just those with a penchant for potties — can.
Magic Restroom Cafe had its "soft opening" in City of Industry in recent days.
Apparently the country's first bathroom-themed restaurant, Magic Restroom Cafe features toilets for seats. Taiwanese food is served in tiny toilet bowl-shaped dishes.
"I've never had so much poop jokes/conversation during a meal til I came here," one reviewer said on on the Yelp listing for the San Gabriel Valley eatery.
Owner YoYo Li told the Los Angeles Times she rejected opening a boba spot and instead went with the toilet theme after seeing its success in China and Taiwan.
A grand opening is scheduled for later this month, The Times reports.