This is an archived article and the information in the article may be outdated. Please look at the time stamp on the story to see when it was last updated.
A former Tomahawk-throwing champion chased an alleged burglar from her home with an ax on Saturday after he allegedly broke in while she slept, police said.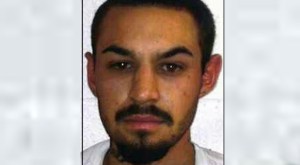 Hemet police were called to a home in the 2200 block of W. Acacia Avenue around 8 a.m. on Saturday, according to a news release from the city of Hemet.
The caller told police that she had been sleeping when she woke to find someone in her apartment attempting to remove a watch from her wrist.
She quickly armed herself with a throwing ax and chased the suspect from her home, police said.
Officers searched the area and found Nicholas Ulloa hiding behind a bush with several bags of miscellaneous property, the release stated.
The 22-year-old was taken into custody and booked on suspicion of burglary in the first degree.
Inside the bag investigators found numerous items with the name of the victim on them, according to the release.