This is an archived article and the information in the article may be outdated. Please look at the time stamp on the story to see when it was last updated.
Downed trees have landed on homes and vehicles in several Southern California cities as powerful winds blew through the region overnight and continued into Friday morning.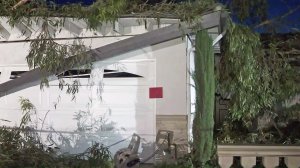 The winds were likely too much for a eucalyptus tree in Walnut, which toppled onto the garage of a home in the 20100 block of San Vicente Circle.
Several cars were left trapped inside the garage, where officials placed a red tag warning residents to stay away.
In Chino, gusty winds in the mid-60 mph range are being blamed for another downed eucalyptus tree, which landed on top of a Chevrolet Blazer on Third Street.
Winds were gusting around 65 mph when the tree fell.
The tree, which homeowner Robert Sanchez says sat on city property, narrowly missed hitting the home.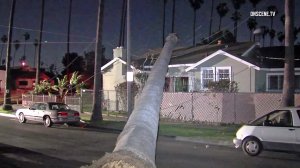 Sanchez said the city is refusing to pay for damages.
In Crenshaw, video showed several parked cars were damaged after being hit by a tree that split in half and fell on Potomac Avenue.
Power lines were taken out by another tree that fell in the Chesterfield Square neighborhood of South Los Angeles.
The tree fell about 10 p.m. Thursday near the intersection of West 57th Street and South Wilton Place.
A home was also hit by the downed tree.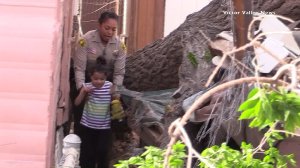 Finally, in Victorville, a family of five was temporarily trapped when a tree fell on their home Thursday.
The tree landed on a metal porch cover and came to a rest on top of the home located on D Street and Sherman Way.
Everyone was able to safely get out of the home by crawling under the toppled tree.
Gusty winds near 60 mph will continue for several parts of Southern California into Friday, according to the National Weather Service.
High wind warnings were issued for parts of the Los Angeles and Ventura County mountains until 9 a.m. Friday.
Wind advisories for the majority of the Los Angeles area were also set to expire at 9 a.m.
I love the wind but it's power can be scary at times. This billboard came down at 745am at Cahuenga and Fountain in Hollywood. #LAwind pic.twitter.com/JVqycPaosc

— Ant-Toe-Knee (@OC92867) March 31, 2017