This is an archived article and the information in the article may be outdated. Please look at the time stamp on the story to see when it was last updated.
No arrest has been made as an investigation into a deadly shooting at a Torrance bowling alley continued Sunday, police said.
The incident at Gable House Bowl late Friday left three men dead and four others injured.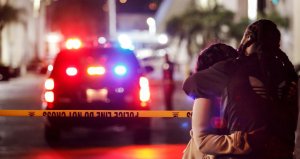 Officers just before midnight responded to a call about shots fired at the location on the 22000 block of Hawthorne Boulevard. According to witnesses, gunfire erupted during a dispute among a group of around 20 people.
Three men—identified by their family members as Michael Radford, 20, and Robert Meekins and Astin Edwards, both 28—died at the scene, Torrance police said.
Two of four people injured were hospitalized, according to the agency.
At around 2 p.m. Saturday, Torrance police said investigators had cleared the scene.
On Sunday, Sgt. Ronald Harris told KTLA that nobody has been detained during the ongoing probe.
"My goal is to meet with detectives later this evening to see if there's anything we can release or put out," Harris told the Los Angeles Times. "They have been working around the clock since this incident."
Anyone with information can call the Torrance Police Department at 310-328-3456.