This is an archived article and the information in the article may be outdated. Please look at the time stamp on the story to see when it was last updated.
Police warned residents in Torrance Thursday about a kidnapping scam to get victims to wire money to people pretending to be members of a Mexican drug cartel.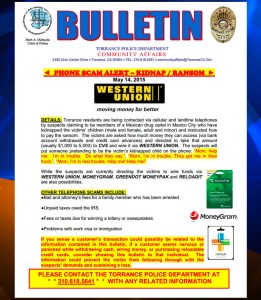 The fake kidnappers contact residents by telephone and claim to be members of a drug cartel from Mexico City who have kidnapped their children, according to a Torrance Police Department bulletin describing the scam.
Someone pretending to be the victim's kidnapped child then comes on the phone and says "Mom, help me. I'm in trouble. Do what they say. They got me in their truck. Help me! Help me!"
The victims are asked how much money they can access through bank account withdrawals and credit card advances and directed to take the money — usually between $1,000 and $5,000 — to a CVS Pharmacy store and wire it via Western Union, the Police Department stated.
Although the scammers are currently directing victims to use Western Union, authorities said MoneyGram, Green Dot MoneyPack and Reloadit are also possibilities.
Employees of bank and retail stores noticing a customer who seems nervous or panicked while withdrawing cash, wiring money or purchasing reloadable credit cards should consider mentioning the scam to the person, the Police Department said.
Anyone who believes they may have been a victim of this or a similar scam was asked to contact the Police Department at 310-618-5641.