This is an archived article and the information in the article may be outdated. Please look at the time stamp on the story to see when it was last updated.
IRWINDALE, Calif. (KTLA) — Dozens of people were injured when a charter bus on its way to a casino overturned on the 210 Freeway in Irwindale Thursday morning, authorities said.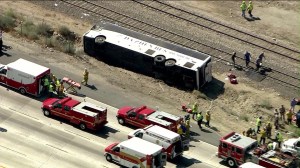 It happened just after 10 a.m. on the eastbound 210 just past the interchange with the 605 Freeway.
The Da Zhen Bus was headed from Monterey Park to the San Manuel Indian Bingo and Casino in San Bernardino at the time of the crash, according to the company.
The bus driver was making an unsafe lane change when he clipped the back of a black Hyundai Elantra, according to the California Highway Patrol.
"The next thing I knew everything was just going really fast and we all kind of swerved over here to the right side and the bus flipped over in the back," said Melody Bausa who was driving the Hyundai.
Several drivers stopped to help pull injured passengers out of the bus, according to witnesses.
Seventy-five firefighters responded to the scene and set up a triage area to determine which patients were in the most serious condition.
Fifty-two people were injured in the crash, according to the Los Angeles County Fire Department. Six patients were airlifted to trauma centers, but none of the injuries were life-threatening, fire officials said.
It was not clear if any of the patients came from the other vehicles involved in the crash.
Patients were taken to Los Angeles County-USC Medical Center, Huntington Memorial Hospital in Pasadena, Foothill Presbyterian Hospital in Glendora, Queen of the Valley Hospital in West Covina and Citrus Valley Medical Center in Covina.
Both sides of the 210 were shut down while medical helicopters landed on the freeway to pick up patients.
Westbound lanes reopened about an hour later. Meanwhile, the majority of eastbound lanes were expected to remain closed until at least 5 p.m.