This is an archived article and the information in the article may be outdated. Please look at the time stamp on the story to see when it was last updated.
A Russian tourist who was with his family was stabbed at the popular Hollywood & Highland center on Wednesday afternoon, and two off-duty NYPD officer detained the attacker and helped the victim, Los Angeles police said.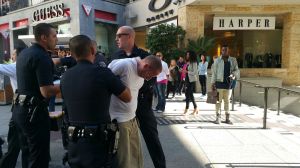 Officers were called to the Hollywood shopping center — in an area that attracts thousands of tourists — at 1:10 p.m. for a report of an assault with a deadly weapon, according to LAPD Officer Jenny Houser.
Multiple witnesses told KTLA that the victim was a tourist who was with his wife and children, and police on scene later confirmed the man was a Russian tourist with his family.
"He got into some sort of an altercation involving a possible transient person, who produced a knife and was able to cause some stab wounds to the Russian victim," LAPD Capt. Pete Carcone said.
The weapon, which appeared to be an 8-inch kitchen-type knife, was left at the crime scene.
Witnesses said the confrontation occurred after the attacker looked at the man's wife.
The victim was stabbed in the neck. His wife frantically tried to help her husband, as their two children ran in fear, witnesses said.
"I saw a guy with a knife, trying to lunge at another guy, trying to stab him," witness Jailyn Spivey said. "There was blood everywhere. And then some other guy, out of nowhere, just tackled him down."
An apparently "undercover" officer jumped in to take the assailant into custody, according to witnesses.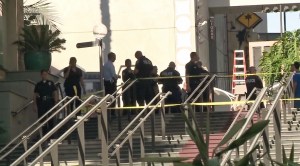 "He kicked the knife out — boom — and he put him in a zip-tie. He did what he was supposed to do," another witness said.
When LAPD officers arrived, the man pulled his badge out, saying he was a New York undercover officer, the witness said.
On scene, police said two off-duty New York Police Department officers had detained the suspect. The men were in town on business and dining nearby when the stabbing occurred.
The victim was taken to a hospital in stable condition, according to LAPD.
Police later identified the alleged assailant as 54-year-old Donald Offerman. He was arrested and booked for suspicion of attempted murder and was being held on $500,000 bail.
KTLA's Jennifer Thang contributed to this article.