This is an archived article and the information in the article may be outdated. Please look at the time stamp on the story to see when it was last updated.
Multiple people were being sought after a tow truck driver was fatally shot in the South Gate area of Los Angeles over a repossessed a car, authorities said.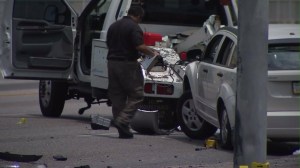 The incident started at a 7-Eleven parking lot in Compton when the tow truck driver was trying to repossess a vehicle in the early morning hours on Sunday, said George Williams, a friend of the driver's.
"I don't really know exactly what happened, as far as with the repo…I just know that they chased him," Williams told KTLA. "I know he had stops…because I talked to the person who was with him when it happened.
"And I know that he stopped, and then whoever it was… hopped out of the car and they pulled out a gun, and he tried to take off," he said.
The driver, described only as a 50-year-old black male by authorities, was being followed "by others in multiple vehicles" with a car in tow that he had been lawfully repossessed to the Rosecrans Avenue and Atlantic Avenue when gunshots were fired, a news release from the Los Angeles County Sheriff's Department stated.
He continued to drive until he collided with a car near the intersection of Firestone Boulevard and Rayo Avenue shortly after 4 a.m., according to the release.
The victim got out out of his truck and was shot by at least one person, the release said.
He was transported to a local hospital where he later died. Authorities have not released the victim's identity yet, but Williams said he was a father and a family man who took care of everyone around him.
"I just want to give my condolences out there to him and his family. I love him," Williams said as he choked back tears. "I was real close with him. A good dude. He was a real good dude."
The other vehicle in the crash was not related with the shooting, the Sheriff's Department said.
No arrests have been made, and the department was not sure how many people were involved in the incident.
Anyone with information about the shooting was urged to call the Sheriff's Department at 323-890-5500 or Crime Stoppers at 800-222-8477.