This is an archived article and the information in the article may be outdated. Please look at the time stamp on the story to see when it was last updated.
A routine traffic stop in Rancho Cucamonga led deputies to uncover the bust of a member of the World War II Tuskegee Airmen unit that had been missing 15 years, officials said Thursday.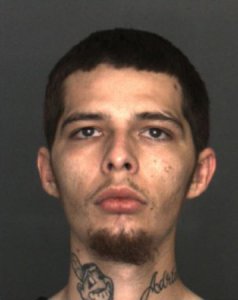 Deputy Daniel Lopez pulled over 24-year-old Brian Sawyer around 8:40 p.m. April 7 for a minor traffic violation, according to a statement from the San Bernardino County Sheriff's Department. After discovering Sawyer was on felony probation and did not have a driver's license, Lopez searched his vehicle and allegedly found methamphetamine, heroin, a loaded handgun and ammunition.
Deputies then conducted a probation search of Sawyer's Fontana home, uncovering an additional firearm, drug paraphernalia and more ammunition — and a piece of art they consider priceless.
The bust of an Air Force service member engraved with the name Col. Ralph Smith and words "Tuskegee Airman" was found in Sawyer's bedroom, officials said.
The Tuskegee Airmen were members of a World War II Air Force unit comprised of African-American pilots, bombardiers, maintenance and support staff who were segregated into the unit due to their race.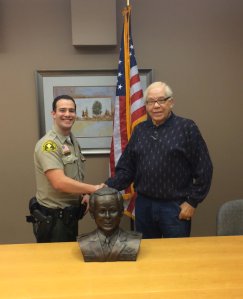 They were the first African-American aviators in the U.S. military and overcame prejudice and discrimination to become a distinguished and celebrated combat group.
Deputies described Smith as an American hero.
Deputy Lopez discovered Smith lived in Moreno Valley and contacted him, according to the release. The colonel told Lopez the bust was sculpted by California artist Don Winton, who gave it to him in 2003.
Furthermore, Smith said, the Smithsonian Institution had requested to display the sculpture one of its museums, but the piece of art went missing 14 years ago after Smith's wife died and a rummage sale was held at his house. Smith thought he would never see it again, he told Lopez.
"They never would tell me, even when I went to court several times, what happened to it," Smith said.
But on Sunday afternoon, the colonel was reunited with the sculpture.
"I'm very glad to get the head bust back," Smith said Thursday. "My daughter probably will look at it, and my grandkids — I had two grandkids since then — they'll look at that bust and probably say, 'Papa, what is that?'"
"The emotional reunification with Colonel Smith and his piece of American history was worth every second I spent on this investigation," Lopez said in a statement.
Sawyer was arrested on suspicion of possession of a controlled substance while armed, felon in possession of a firearm and possession of stolen property, officials said. He was released on $50,000 bail on April 9.