This is an archived article and the information in the article may be outdated. Please look at the time stamp on the story to see when it was last updated.
A Metrolink train derailed a few hundred feet from Union Station in downtown Los Angeles late Tuesday afternoon but there were no apparent injuries, authorities said.
The derailment occurred shortly before 5 p.m. in the area of Vignes and Bauchet streets, just north of the station and close to the Men's Central Jail.
A Metrolink train was off track but upright, and there were no apparent injuries, the Los Angeles Fire Department's Erik Scott said in alert email. Firefighters were called to the station at 4:55 p.m., Scott said.
Los Angeles County Sheriff's Department Deputy Crystal Hernandez confirmed that authorities were working some kind of incident related to a train derailment.
The Ventura line 906 train, which travels between Burbank Airport and downtown L.A., went off the tracks about 4:40 p.m. as it was transferring from one track to another, Metrolink spokesman Scott Johnson said.
Two passenger cars went off the track, Johnson said.
About 100 passengers who were on board walked about 200 yards to the station, Johnson said.
Deputies and firefighters went from car to car, and passengers disembarked, video from Sky 5 showed.
One woman was taken off the train with the help of deputies and firefighters. It was not clear if the woman was in a wheelchair or if she had been hurt.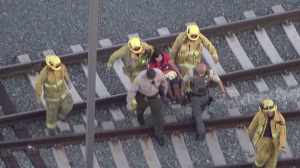 After all passengers exited the train, Scott confirmed no one was injured.
Metrolink commuter trains to and from Union Station were expected to experience delays of 30 to 60 minutes, the agency said on Twitter.
The cause of the derailment was under investigation, Johnson said.
KTLA's Scott Williams and Nidia Becerra Tijerino contributed to this article.
If waiting at L.A. Union Station, please see Metrolink representatives in bright vests for track information.We apologize for the confusion.

— Metrolink (@Metrolink) February 11, 2015
More video: