This is an archived article and the information in the article may be outdated. Please look at the time stamp on the story to see when it was last updated.
Hugs and cheers are common at the end of a race's finish line, but one trainer decided to make the L.A. Marathon his proposal site when he got down on one knee for the "Marathon Goddess" on Sunday.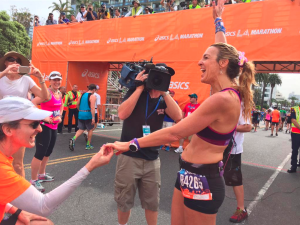 Julie Weiss, self-referred to as the "Marathon Goddess," is known for running 52 races in 52 weeks in 2013 in her deceased father's memory, but now she may be known for another rare moment in racing history.
At the end of the 26.2-mile course ending in Santa Monica on Sunday, Weiss' coach David Levine proposed.
"I said to her, 'I want to give you something, will you marry me?' … And that's when I got down on one knee and handed her the ring," Levine told KTLA, which happened to catch the moment on camera.
Weiss said yes, and waved her arms in the air triumphantly after the proposal.
But in regards to if she was surprised, she responded, "yes and no. It's like I knew he wanted to give it back to me … but I didn't know if he was really going to do it, and he did."
The two had previously broke up, but reconnected when Levine began training her for the big race.
An accomplished marathon runner, Weiss said Sunday wasn't one of her best times.
"And no I didn't qualify for (the Boston Marathon). That's OK, I got something better," she told KTLA.
As Levine anxiously waited at the finish line, he said trying not to lose the ring, which once belonged to his mother, was constantly on his mind.
"I've had that ring on my little finger for the longest time, hoping to God that it would not fall off," he said.
And even though Levine's mother has died, Weiss said she knows their parents are happy for them.
"I know she's smiling down, and so is my dad," Weiss said.