This is an archived article and the information in the article may be outdated. Please look at the time stamp on the story to see when it was last updated.
Weeks after video surfaced online showing transgender women dragged out of a downtown L.A. bar, the victims have demanded the venue publicly apologize and repair its relationship with the LGBTQ community.
With legal representation from Lisa Bloom, the four victims spoke Monday morning about the Aug. 23 incident at Las Perlas — detailing how they were targeted with homophobic attacks by a couple at the bar before being forcibly removed by security guards. Video shows a guard's arm wrapped around one of the women's necks as she screams for him to stop touching her.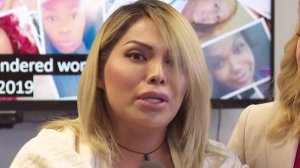 Police are investigating the incident as a possible hate crime.
Khloe Perez-Rios, one of the victims, said Las Perlas should hire transgender employees trained to work with the LGBTQ community and bring in advocates and hate crime victims to work on sensitivity training.
One of the other victims, Jorge Diaz, said he would like a personal apology from the CEO of the bar's parent company — to him and the rest of the LGBTQ community.
Management at Las Perlas initially defended the actions of guards in an Instagram post — which has since been taken down — saying both groups were taken out due to a "zero tolerance policy for this type of behavior."
But the bar, located at 107 E. Sixth St., later released another statement apologizing and saying its security company was being replaced by one with sensitivity training.
According to Perez-Rios, that is still not enough and fails to resolve "the bigger issue."
"The change we demand to make our community safe will not happen with one training at one specific bar," Perez-Rios said, noting that any other bars owned by Las Perlas' parent company should also provide more training.
She and three of her co-workers from LGBTQ health care nonprofit Bienestar Human Services were downtown celebrating DTLA Proud and working a booth for the festival when they decided to visit Las Perlas later in the evening.
Perez-Rios' voice began to choke as she explained the group felt safe going to the bar since it's located close to a well-known LGBTQ establishment, Redline, and was just blocks from the festival.
"Shortly after we arrived at Las Perlas, the transphobic man and woman at the bar — both of whom were very intoxicated — proceeded to hurl transphobic slurs at us, accusing my coworkers and I of being men and calling us all f—–s," Perez-Rios said.
From there, she said, the harassment turned physically violent as the couple tried to "attack" her friend, Fernanda Celarie, who broke down as she spoke before reporters Monday.
Perez-Rios said the group tried to intervene on Celarie's behalf but the couple grew more violent, with the woman throwing punches at Perez-Rios but missing.
"The couple then threatened our lives by saying, ' I'm going to come back and kill you all, f—–s," she said.
Jorge Diaz, one of the other victims, said he asked the management "numerous times" to call 911 and not remove their group. "But they failed to listen," he said.
Instead, security guards removed their group and the couple. Perez-Rios said they were "very gentle" when escorting out the man and woman.
"They were all allowed to leave without security dragging, forcing or choking them. We were not so lucky," she said.
She recorded cell phone footage of security removing their group, which shows a guard with his arm gripped around one woman's neck and chest area as he walks her out.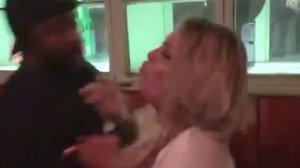 Seconds later, another guard walks across the room and suddenly grabs another one of the women before taking her out with both of his arms wrapped around her body.
"The bar security used excessive force when they put their hands on me, locked my arms behind my back and tossed me in the street as if I committed a crime," said Jennifer Bianchi, one of the victims.
Once outside, the group was left with the couple they said had been spewing homophobic slurs.
At that point, Perez-Rios said, the man threw a metal object at Diaz and said he was "going to come back with his gun from the car and kill us."
"Their policy is to remove everyone from any incident. Well that policy put our lives in danger," Diaz said.
Celarie said she felt assaulted, discriminated against and despised after the incident.
"I feel like my rights too have been violated," Celarie said in Spanish. "That's why I'm here, not for me, but because my transgender community is damaged and bothered. For all of history, biological women have fought to have the same rights as men. I think it's time to tell society that transgender women are humans, and we also have the same rights."
Las Perlas' handling of that behavior and how guards then treated the transgender women, Perez-Rios said, was a "painful reminder" of the conditions they face.
"The conduct of Las Perlas security guards and management serves as a painful reminder that the LGBTQ+ community — and specifically the transgender community — live in a society that sees us as disposable and unworthy of protection," she said.