This is an archived article and the information in the article may be outdated. Please look at the time stamp on the story to see when it was last updated.
Police released surveillance video on Thursday showing the fatal shooting of a transgender woman as she tried to flee the scene of an apparent robbery attempt in East Hollywood.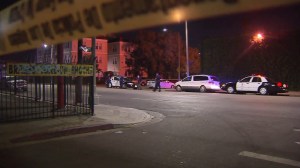 The video showed three Hispanic men, in their 20s walking along the 600 block of North Kenmore Avenue around 2:30 a.m. in East Hollywood.
The video appears to show an altercation between the 47-year-old woman and the men.
As the victim tried to run away, one of the men followed her, shooting her point blank in the head as she crossed the street.
The woman stumbled to the other side of the street and collapsed on the sidewalk, the video showed.
Minutes later, a bystander came to her aid and called for help.
When officers arrived they found the woman suffering from a gunshot wound to the head, according to a spokesperson for the Los Angeles Police Department.
She was transported to L.A. County-USC Medical Center by Los Angeles Fire Department personnel and pronounced dead shortly after 5 a.m.
"From what we've been told by witnesses, it appears … that it may be a robbery gone bad," said police Lt. Joe Losorelli.
Several community activists and transgender women, gathered to pay their respects at a small memorial by the crime scene.
"I was so touched," said Diamond Samuals. "I had to be here because this could have been me."
Authorities had initially described the deceased person as a transgender woman. In a news conference at the scene, an LAPD detective referred to the victim as a transgender man.