This is an archived article and the information in the article may be outdated. Please look at the time stamp on the story to see when it was last updated.
A continuing warming trend in Southern California was expected to bring triple-digit heat to parts of the region this weekend, according to the National Weather Service.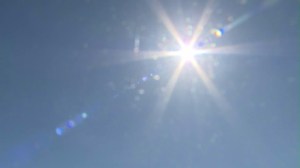 By Thursday, forecasters predicted above-average temperatures in many parts of the area. But the conditions were expected to peak in the region on Saturday and Sunday, when temperatures could be up to 10 degrees above normal in many inland areas.
Valley and desert areas would see temperatures ranging from 100 to 107 degrees, while inland coastal area temperatures were expected to be between 85 and 99 degrees, according to the weather service.
Public health officials in Riverside County warned that temperatures for inland, valleys, mountains and desert regions could even reach as high as 110 degrees.
The extremely warm weather prompted Los Angeles and Riverside County officials to declare heat alerts.
In L.A. County, the alert has already been issued in the San Gabriel, Santa Clarita and San Fernando valleys, and will last through Sunday. Heat alerts were set to be issued for the Los Angeles Basin and Antelope Valley for the weekend, according to the county Department of Public Health.
The alert in Riverside County was in effect for the weekend.
Forecasters and health officials were warning that the temperature spike would increase the risk of heat-related illnesses, especially for the elderly, infants, outdoor workers and anyone participating in outdoor activities.
"When temperatures are high, even a few hours of exertion may cause severe dehydration, heat cramps, heat exhaustion and heat stroke," L.A. County Interim Health Officer Dr. Jeffrey Gunzenhauser stated in a news release. "Others who are frail or have chronic health conditions may develop serious health problems leading to death if they are exposed to high temperatures over several days."
The weather service also reminded car owners that the interior of vehicles can heat up quickly.
"Never leave kids, pets or the elderly in your car, even for a few minutes," forecasters warned.
Anyone spending time outdoors was urged to wear light-colored and light weight clothing, stay out of midday sun and keep hydrated. During peak hours, it was best to stay indoors in an air-conditioned area.
Those who do not have access to air conditioning have been asked to visit cooling centers, shopping malls, parks or libraries to beat the heat.
"Extreme heat such as this is not just an inconvenience, it can be dangerous and even deadly, but we can protect ourselves, our families, and our neighbors if we take steps to remain cool and hydrated," Gunzenhauser said.
Pet owners have also been encouraged by health officials and forecasters to make sure their animals have plenty of shade and fresh water.
In addition to the heat, there was also a "slight chance" that mountain and desert areas could be hit with thunderstorms this weekend.
Hot and dry conditions were also expected to bring an increased risk of fire danger to the area, forecasters said.
The weather could be slightly cooler on Monday, but temperatures would remain above average in most parts of the region. By Tuesday, however, temperatures should cool down by a few degrees, according to the weather service.
Click here for a list of cooling centers in Los Angeles County.
Click here for a list of cooling centers in San Bernardino County.
Click here for a list of cooling centers in Riverside County.
More video: