This is an archived article and the information in the article may be outdated. Please look at the time stamp on the story to see when it was last updated.
An excessive heat warning was in effect for parts of Southern California as a prolonged period of "very hot" weather was expected to hit the area this week, federal forecasters said.
Temperatures were expected to be hottest in the region beginning Tuesday and lasting through Thursday, prompting the National Weather Service to issue excessive heat warnings for the three-day period in the mountain and valley areas of Los Angeles County and Ventura counties.
Forecasters predicted that temperatures in the valley areas would be "well into the 100s," while lower elevations in the mountains could see highs hovering around 100. Inland coastal areas would be cooler, with temperatures expected to be in the mid-80s to upper 90s.
The heat was forecast to spike on Wednesday.
By Friday and Saturday, temperatures would be slightly cooler, but the hot weather wasn't expected to subside until the beginning of next week.
As a result of the predicted high temperatures, the L.A. County Department of Public Health has issued a heat alert in the Los Angeles Basin, as well as the Santa Clarita, San Fernando and San Gabriel valleys.
Public health officials have urged anyone spending time outdoors in the region to wear light-colored and light-weight clothing, stay out of midday sun and find air conditioned areas, and keep hydrated.
Those without access to air conditioning should visit cooling centers, shopping malls, parks or libraries to keep cool.
Pet owners have also been reminded to make sure their animals have plenty of shade and fresh water.
"While it is very important that everyone take special care of themselves, it is equally important that we reach out to those who are especially vulnerable to the harmful effects of extreme heat, including children, the elderly, and their pets," Dr. Gunzenhauser, the county's interim health officer, said in a news release. "Extreme heat such as this is not just an inconvenience, it can be dangerous and even deadly."
Meanwhile, remnant moisture from Hurricane Linda was expected to add some humidity to the area, according to the weather service.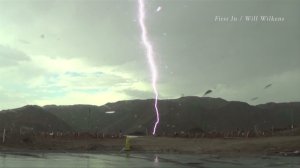 Monsoonal moisture would also bring "few" afternoon thunderstorms over the mountain and desert areas through at least Thursday, forecasters said.
Isolated thunderstorms capable of producing locally heavy rainfall and flash flooding were possible each day in the valley areas of San Bernardino and Riverside counties, according to the weather service.
Because of the expected thunderstorms, flash flood watches have been issued through Thursday for the mountain and lower desert portions of the Inland Empire. Parts of the upper deserts would be under a flash flood watch for Wednesday and Thursday.
The weather service also warned of big surf and strong rip currents at Orange County beaches on Tuesday, the result of a large southwest swell.
Surf was expected to be up to 6 feet at some beaches, with sets up 8 feet at the wedge in Newport Beach. It was forecast to gradually decrease during the day.
Potential impacts included dangerous swimming conditions along the coastline for inexperienced swimmers.
Click here for a list of cooling centers in the City of Los Angeles.
Click here for a list of cooling centers in Los Angeles County.
Click here for a list of cooling centers in San Bernardino County.
Click here for a list of cooling centers in Riverside County.
More Video: