This is an archived article and the information in the article may be outdated. Please look at the time stamp on the story to see when it was last updated.
Three people were shot and killed inside a home within a gated community in the Porter Ranch area Monday afternoon, and police were investigating all possible leads as they worked to identify a suspect. The victims were found by paramedics who responded to reports of shots fired inside the large home in the 20300 block of Via Galileo shortly before 4 p.m., according to Los Angeles Police Cmdr. Alan Hamilton.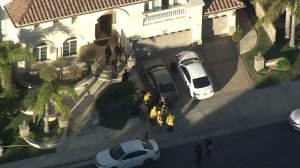 The residence is within Renaissance, an upscale development at the northeast end of Porter Ranch. Another LAPD official had initially said the crime scene was located on Via Galileo's 20000 block. Los Angeles fire officials found the victims after responding to a 911 call and immediately notified LAPD, Hamilton said. However, there was little information about who had contacted authorities. "As far as I know it was someone associated with the people inside of the house," Hamilton said. "We don't have anything beyond that." The victims had yet to be identified, and authorities were working to piece together information on a suspect. "At this time it looks like someone entered the residence and there were some shots fired," Hamilton said. "There are multiple victims of gunshot wounds down inside of the residence." Although Officer Sal Ramirez told KTLA investigators had ruled out murder-suicide and were working the case as a robbery-homicide, authorities at the scene later said nothing was being ruled out.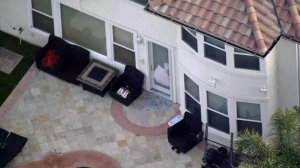 Aerials from Sky5 showed investigators outside a residence in the gated community, where
homes are listed at prices in excess of $1 million
. The home's back door appeared to be shattered, the aerial footage showed. Hamilton said investigators were working a "very large crime scene," combing through the larger neighborhood to determine if there was any evidence that could be recovered. "At some point someone left this residence following this incident, so we're going to try to … determine if we can recover any evidence related to this shooting," he said. Residents of the community, located near the border of Porter Ranch and Chatsworth, were asked to stay clear of the area being investigated. Others who live in Renaissance said a security guard patrols the development 24 hours a day, and the front gates are manned by a guard who checks IDs and license plates before visitors can enter. Rep. Brad Sherman, who represents Porter Ranch and other parts of the San Fernando Valley in Congress, also lives in the development, blocks away from the crime scene.
"I still think it's a very safe neighborhood, but emotionally it shakes you up a little bit to know that something like this happened blocks away from where you live," he told reporters Monday night. Shauzub Raza said there'd been talk recently of an increase in crime in the neighborhood, but nothing violent. "We have heard the past month there was robberies going on around the community — stealing cars or robbing people's vehicles," Raza said. Investigators were still processing the scene late Monday night and working to obtain a search warrant for the home, Sgt. Barry Montgomery said. "This is a lengthy process and we're just at the beginning of this," he told KTLA. "We're hoping that tomorrow morning we'll have much more information to provide."
KTLA's Matt Phillips contributed to this report.