This is an archived article and the information in the article may be outdated. Please look at the time stamp on the story to see when it was last updated.
A 36-year-old man was taken into custody Sunday after he allegedly shot three men, two fatally, in the Inglewood area.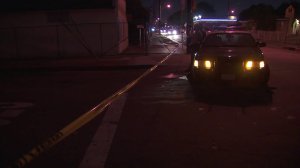 Officials responded to the scene on the 10100 block of Firmona Avenue, just north of the Lennox area, shortly after 6:30 p.m., the Los Angeles County Sheriff's Department said in a statement.
Deputies found the first victim at Firmona  with a gunshot wound to the chest. He was pronounced dead at the scene.
While at the scene, deputies learned that the possible shooter ran toward Mansel Avenue in Lennox, where he allegedly shot the second victim, officials said. That man was taken to a hospital, where he was pronounced dead.
The suspect then attempted to carjack another man and he allegedly shot the driver. Deputies arrived to the attempted carjacking and were able to take the man into custody, officials said.
He was identified Monday afternoon as Juan Saucedo, 36. He has been booked on suspicion of murder and is being held on $2 million bail.
His relationship to the victims, as well as the motive for the shootings, is under investigation, the Sheriff's Department said. No other suspects are being sought.
The victim in the carjacking was taken to a hospital and is in fair condition.