This is an archived article and the information in the article may be outdated. Please look at the time stamp on the story to see when it was last updated.
A triple homicide investigation is underway in Compton Wednesday after three men were found shot to death inside a park maintenance shack the night before, according to the Los Angeles County Sheriff's Department.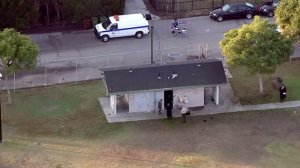 The shooting took place at Raymond Street Park, located in the 500 block of Raymond Street, sometime between 9 p.m. and 11 p.m., Sheriff Jim McDonnell told KTLA in an interview near the crime scene on Wednesday morning.
Compton Sheriff Station deputies responded to the scene about 11:10 p.m. after receiving a report of a "gunshot victim" and found the three men, all with gunshot wounds to their upper torsos, a news release from the Sheriff's Department stated. They are believed to be in their 20s.
They were located at the park in an outbuilding that had a utility room attached, according to McDonnell. He described it as a "restroom-type of facility."
Authorities have not released the identities of any of the victims.
One of the victims' mother told KTLA her son left his home about 9:50 p.m. to meet his friends and didn't come back. She said he is the youngest of four siblings and a father of three.
"Just the fact that we're going to spend Thanksgiving without him, it's painful,"
Ana Kalcala, one of the victims' cousins told KTLA.
One male resident said the park where the deadly triple shooting happened is "always" closed and people typically don't go inside.
"This is a very quiet neighborhood," he said, adding, "I'm surprised about this right now."
Investigators believe the shooter or shooters are outstanding, but they do not have a description of an assailant. A motive has yet to be determined, but the crime was "probably" gang-related, according to McDonnell.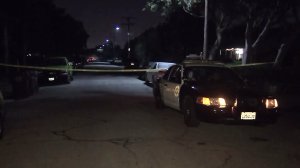 The sheriff told KTLA that while he doesn't visit every crime scene, he tries to get to as many as he can.
"This one certainly very significant. We've been able to make some pretty great gains in Compton and reduce some of the crime rate and restore quality of life for the people who live here," he said, when asked what drew him out to this particular scene. "A triple murder certainly sets us back in that regard."
Almost 12 hours after the fatal shooting, homicide detectives were combing the location for evidence. The L.A. County coroner's office had also arrived.
"We'll work it hard, and we'll find out who did this," McDonnell said.
Anyone with information is urged to call the Sheriff's Department at 323-890-5500. Those who prefer to remain anonymous can leave a tip by calling Crime Stoppers at 800-222-8477.
KTLA's Cindy Von Quednow contributed to this story.