This is an archived article and the information in the article may be outdated. Please look at the time stamp on the story to see when it was last updated.
The truck driver involved in the 2015 Metrolink crash that killed the engineer and injured 32 people had been working for 24 hours, according to the final National Transportation Safety Board report on the incident, which was released Monday.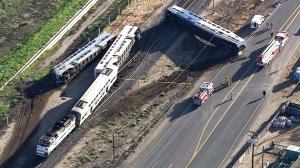 Jose Alejandro Sanchez-Ramirez was charged with manslaughter earlier this year in connection with the Feb. 24 incident when he mistakenly turned onto the railroad tracks on Rice Avenue near 5th Street and his truck became stuck.
The truck was sitting on the tracks for 12 minutes before the Metrolink train crashed into it, according to the report. Sanchez-Ramirez had left the headlights and hazards on and the door open, and had attempted to push the truck off the tracks, according to the report.
The driver said he tried to call 911, "but was in a state of panic and could not do so," the report states.
According to the report, the crash occurred nearly 24 hours after the driver reported for duty in his home state of Arizona and by the time he reached the grade crossing in Oxnard, he had spent nearly 17 hours on the road.
"The driver went on duty at 5:51 a.m. on February 23, after having been off duty the day before," the report states.
At the time, Sanchez-Ramirez was employed by The Growers Company but was operating a vehicle owned by
Harvest Management, both of which are based in Somerton, Arizona.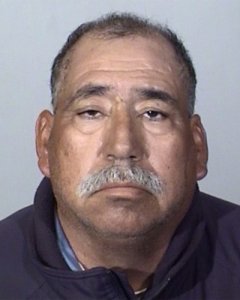 He was given "paper directions, written in Spanish" from Somerton to the Ventura County city.
Sanchez-Ramirez was using a navigation app on his phone, but it did not include railroad crossing on it, according to the report.
The driver was delayed by more than four hours in Jacumba, California, a small town near the Mexico-US border at the edge of San Diego County.
He was also sideswiped in his truck by another vehicle in Los Angeles, "further extending his travel time," the NTSB reported.
The NTSB report concludes that Sanchez-Ramirez "mistakenly turned onto the railroad right of way due to acute fatigue and unfamiliarity with the area."
Officials recommend that Google and Apple incorporate railroad crossing data into their navigation apps by the end of the year.
The engineer, Glenn Steele, 62, of Homeland, died at Cedars-Sinai Medical Center in Los Angeles a week after the crash.
Sanchez-Ramirez, who suffered minor injuries in last year's crash, is scheduled to appear in Ventura County Superior Court on Jan. 11, according to the Ventura County District Attorney's Office.