This is an archived article and the information in the article may be outdated. Please look at the time stamp on the story to see when it was last updated.
A man died after the truck he was driving crashed on a street in Beverly Hills, authorities said, near the sites of separate 2014 collisions that claimed the lives of two an LAPD detective and an officer.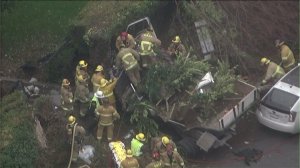 Friday's morning's incident was reported about 8:20 a.m. in the 800 block of Loma Vista Drive (map), according to a spokesperson for the Beverly Hills Department.
Sky5 video showed the firefighters extricating the truck's driver, who was then placed into an ambulance that left the scene. His death was later confirmed by Beverly Hills police.
The collision occurred on the same stretch of road where two members of the LAPD were killed in previous crashes.
Officer Nicholas Choung Lee, a 40-year veteran of the police force, died in March 2014 after a crash with a big rig.
Two months later, an off-duty LAPD detective was killed in a collision involving a cement truck.
That truck was believed to have been traveling downhill and southbound when it lost control, crossing the double-yellow line and hitting the detective's vehicle before overturning.​