This is an archived article and the information in the article may be outdated. Please look at the time stamp on the story to see when it was last updated.
Traffic along Highway 99 was choked Friday evening as big rig drivers pumped their brakes through California's Central Valley in protest of a new federal mandate that could push smaller operators out of business.
The convoy of more than 300 commercial trucks assembled at a Sikh temple in Yuba City before clogging traffic on the southbound 5 Freeway through the state capital, according to KTLA sister station KTXL in Sacramento.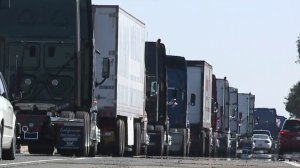 By about 4 p.m., the crawling caravan had made its way to Highway 99 and was en route to Fresno's City Hall, according to Caltrans.
The California Highway Patrol issued a statement saying it supports to drivers' right to protest but "doing so in a manner that blocks traffic, slows the response of emergency vehicles and people traveling throughout the state, is against the law." However, the agency did not announce that any arrests had been made.
The demonstration was organized by a group called Operation Black and Blue as part of a national mobilization set to culminate in Washington, DC.
The California Trucking Association, however, sought to distance itself from the protest, saying in a statement that the organization supports drivers' free speech but does not "condone unsafe and illegal activities, including creating dangerous driving conditions by impeding traffic on busy freeways."
At issue is a federal regulation set to go into effect this December requiring all commercial trucks to be equipped with an Electronic Logging Device, which automatically records a driver's entire route.
Currently, truckers log their work hours by hand and then file it with regulators. The mandate hopes to modernize the system and prevent drivers from working too many hours, but those it affects say the associated costs are prohibitive for smaller companies and operators.
The device itself will come with monthly fees and cost an average of $500 annually for each truck it's installed on, according to a U.S. Department of Transportation report.
Because the gadget syncs to a truck's engine, there can also be costly mechanic complications. The mandate exempts vehicles manufactured after 2000, but it is common for newer trucks to be equipped with an older engine, something the mandate doesn't take into account.
Since the apparatus also allows regulators and fleet managers to monitor drivers, many have raised privacy concerns.
"They're electronically tracking us," truck owner Adam Atwal told KTXL. "It's like putting an ankle bracelet on a parolee. We haven't done nothing wrong."
Operation Black and Blue plans for its mobilization to end Sunday in Washington, DC.