This is an archived article and the information in the article may be outdated. Please look at the time stamp on the story to see when it was last updated.
A Compton woman who was struck by a car on the 5 Freeway last year during a political protest that spilled onto the freeway is suing UC San Diego, among others, alleging failure to contain the demonstration and prevent a dangerous situation.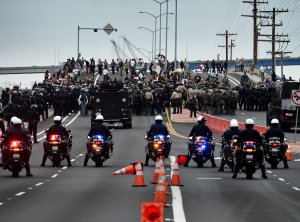 Maria Ana Carrola Flores, 19, filed the lawsuit this month in San Diego County Superior Court against defendants, including the university, the driver of the car that struck her, the state and the city of San Diego. The lawsuit's allegations include negligence and a dangerous condition on public property.
A university spokeswoman declined to comment because litigation was ongoing. The city of San Diego did not respond to requests for comment.
Flores, then 18, was part of a protest that started on the UCSD campus in La Jolla after Donald Trump gave his presidential victory speech in New York in the early morning hours of Nov. 9, 2016, the San Diego Union-Tribune reported at the time. The protest eventually moved onto the southbound 5 freeway north of Nobel Drive, where a car struck Flores about 1:40 a.m.
Read the full story on LATimes.com.