This is an archived article and the information in the article may be outdated. Please look at the time stamp on the story to see when it was last updated.
President Trump's proposed budget would reduce education spending nationwide while boosting money for school vouchers and charter schools.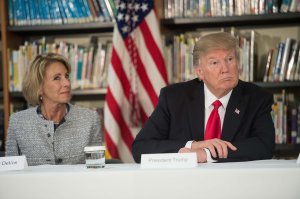 While most public school dollars come from states and districts, federal funds cover specific programs. Since California is the most populous state, it stands to lose the most money.
This fiscal year, the federal government is expected to pay California $4.09 billion for K-12 programming and $4.3 billion for college programs, EdSource noted.
The Trump administration has proposed entirely cutting Supporting Effective Instruction grants, which pay for teacher training. California gets about $250 million from that fund, and school districts use it in different ways.
Click here to read the full story on LATimes.com.