This is an archived article and the information in the article may be outdated. Please look at the time stamp on the story to see when it was last updated.
President Trump on Wednesday threatened to delay building border barriers in California until his long-promised wall goes up elsewhere, seemingly slinging another arrow in his running battle with the nation's most populous state.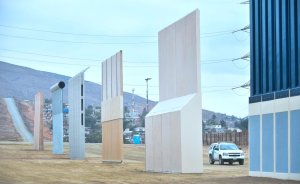 "Sections of the Wall that California wants built NOW will not be built until the whole Wall is approved," Trump declared in a morning message on Twitter.
His threat confused just about everyone involved in the fight over border protection. If the goal was to gain leverage in his fight for the wall, the warning shot seemed oddly aimed: California officials have fought vigorously against Trump's project, his top priority as a presidential candidate, even going to court to try to block it — an effort that lost a round Tuesday. They haven't been clamoring for construction of new border fences.
Administration officials could not point to any change in policy — either proposals or executive actions — to accompany Trump's tweet. Nor were officials sure what "sections of the wall" Trump was referring to as elements that "California wants."
Read the full story on LATimes.com.