This is an archived article and the information in the article may be outdated. Please look at the time stamp on the story to see when it was last updated.
A 62-year-old San Francisco woman who pleaded no contest to a stowaway charge Wednesday after bypassing airport security, boarding a flight in San Jose without a ticket and then arriving at LAX said she did not want to "jeopardize security" and would not do it again, despite previous stowaway offenses.
The unticketed passenger was discovered Monday night after Southwest Airlines Flight 3785 landed at Los Angeles International Airport, where airline employees conducted a head count, officials said.
Marilyn Jean Hartman was arrested by airport police at LAX.
The Los Angeles City Attorney's Office filed one misdemeanor charge against Hartman for violating a city code that prohibits stowaway entry into L.A.
She was arraigned at the Airport Courthouse Wednesday afternoon, pleading no contest.
She spoke to reporters outside the courthouse on Wednesday evening, refusing to say how she got past airport security.
"I don't think it's wise to say how I got through. I don't want to help the enemy," Hartman said. "I am first and foremost an American and I am very strongly proud of my country, so I don't want to do anything to jeopardize security."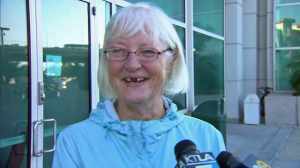 Saying she was not sure where she had been headed, Hartman vowed not repeat the crime.
"I want to go with a paid ticket. … I want to do everything legal," Hartman said. "It was clearly wrong on my part. … It was stupid and it is something I don't want to repeat."
She lives in a homeless shelter due to income problems, she said. She had once worked as a legal secretary, she said.
Hartman was sentenced to 24 months of summary probation, ordered to spend three days in jail, for which she was given credit for time already served.
She was also ordered to comply with earlier probation conditions stemming from her arrest at San Francisco International Airport in February, and to stay away from LAX unless she had an airline ticket, according to the City Attorney's Office.
In a statement to KTLA on Wednesday, Southwest Airlines said that in addition to its own internal investigation, the airline "continues our work with all relevant regulatory agencies, including the TSA."
"The passenger was screened by TSA for any prohibited items. It's really important to point that out," said Rosemary Barnes, spokeswoman for Mineta San Jose International Airport. "Public safety was not compromised in any way."
Hartman was described as a "notorious stowaway" by the San Jose Mercury-News, which reported that she had been arrested six previous times for attempts to sneak onto flights.
Hartman had been placed on probation in February after attempting to board three different Hawaii-bound flights from SFO, the newspaper reported, citing prosecutors.
The San Francisco resident was arrested at SFO twice within one week in March for trespassing at the airport and violating a court order to stay away, according to San Mateo County Sheriff's Office news releases.
Each time, she told investigators she had nowhere else to go, the Mercury-News reported.
Hartman was sentenced to two years probation and deemed a candidate for a residential mental health program, which she was placed into in May after authorities determined she had a "major mental illness," according to the Mercury-News.
Hartman said she wanted to fly somewhere warm, making unsubstantiated claims she had cancer, San Mateo County's district attorney said in May, according to the newspaper.
After her arrest in February, a fundraising page was created to send Hartman to Hawaii — with the caveat that she would only get the money if her cancer claims were found true.
This week, a congressman who represents part of the Bay Area spoke out on Hartman.
"She should never have gotten on that plane," Rep. Eric Swalwell (D-Dublin), a member of the House Committee on Homeland Security, told CNN.
San Jose security officials said that Hartman bypassed a document-checker while he was checking a family's boarding passes, according to Swalwell.
"Certainly two instances of unticketed passengers getting on a plane at San Jose within the last four months is concerning," the congressman said.
He called Hartman "harmless" in a statement on his website.
In April, Swalwell called for improved perimeter security after a 15-year-old boy climbed a fence at San Jose airport and survived a flight to Hawaii in the wheel well of a plane.
Swalwell said TSA agents need more training.
Alan Wang of CNN affiliate KGO-TV contributed to this report.
More Videos: