This is an archived article and the information in the article may be outdated. Please look at the time stamp on the story to see when it was last updated.
The Transportation Security Administration is calling for an increased police presence at agency checkpoints after November's deadly shooting at LAX, according to a report obtained Wednesday.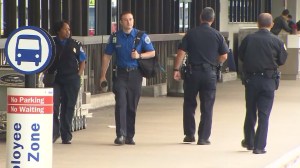 The agency's assessment covers 14 recommendations relating to employee training, improved emergency technology and law enforcement presence that will be implemented at airports nationwide.
Read the full report: Enhancing TSA Officer Safety and Security
TSA Administrator John Pistole told The Times it was a "measured response" to the Nov. 1 attack at LAX in which one officer was killed and three other people were wounded.
"The bottom line of all this is … that we are doing everything we can to provide for the best possible safety and security," Pistole said.
Click here to read the full story on LATimes.com.