This is an archived article and the information in the article may be outdated. Please look at the time stamp on the story to see when it was last updated.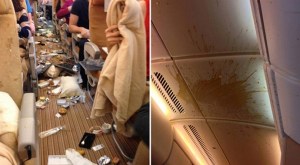 LONDON (KTLA) — Violent turbulence on board a flight from Singapore to London sent everything, including passengers, flying.
Breakfast had just been served on the Singapore Airlines flight when the plane suddenly dropped 65 feet.
Passengers said everything that wasn't tied down hit the ceiling.
Eleven passengers and one crew member were injured in the incident.
They were met by medics when the flight landed in London.