This is an archived article and the information in the article may be outdated. Please look at the time stamp on the story to see when it was last updated.
A group of Turkish demonstrators were asked to leave the Turkish Consulate in the Mid-Wilshire area after marchers commemorating the 100th anniversary of the Armenian Genocide converged on the building Friday.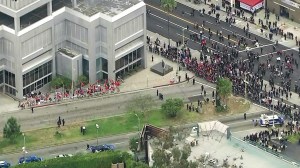 Video showed demonstrators representing both groups gesturing toward each other from behind barricades that were being guarded by Los Angeles police officers.
"They're throwing eggs and bottles at us," said Kutsal Kocer, who was standing with the Turkish demonstrators.
Kocer told KTLA she and the other Turkish demonstrators were asked to leave the building because police could not protect them from the marchers.
"It's a shame that these people are violent and they are turning this into a Christian/Muslim war," Kocer said.
A group of LAPD officers was seen a short time later moving the two groups further apart, seemingly calming the situation.
Thousands of people took part in the mostly peaceful 6-mile march, dubbed the "March for Justice," from the corner of Western and Sunset to the Turkish Consulate on Wilshire Boulevard.
Participants in the annual march have called for recognition of the deaths of about 1.2 million Armenians as a genocide, the Los Angeles Times reported.
Some estimate the deaths at over 1.5 million, according to the newspaper.
More video: