This is an archived article and the information in the article may be outdated. Please look at the time stamp on the story to see when it was last updated.
A Perris couple accused of abusing and torturing their 13 children have been ordered to stand trial by a judge, the Riverside County District Attorney's Office announced Thursday.
David Turpin, 56, and Louise Turpin, 49, will be tried on all but one of the 50 counts they've been charged with, according to the DA's office.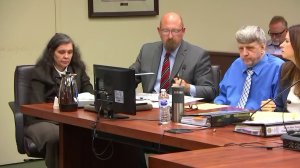 The decision came one day after a preliminary hearing in which a chilling 911 call made by one of the Turpins' daughters was played in court, and some of the disturbing abuse allegations were detailed during testimony from a sheriff's deputy.
The Turpins allegedly beat and starved their children, six minors and seven adults whose ages ranged from 2 to 29 years old. At times, the children were kept chained to their beds, prosecutors said.
Authorities arrested the couple on Jan. 14, after their 17-year-old daughter made a daring escape from the home through a window and used a deactivated cellphone to call 911.
In the phone call, which was played in court, she told the dispatcher her parents were abusive and that two of her sisters were chained up inside the house.
She struggled to remember her own address, telling the dispatcher, "I've never been out. I don't go out much." The children spent about 20 hours a day in their rooms, Riverside County sheriff's Deputy Manuel Campos testified in court.
During the 911 call, the daughter recounted how she struggled to breathe due to "how dirty the house is," and stated she and her 12 siblings never bathed and possibly needed to see a doctor.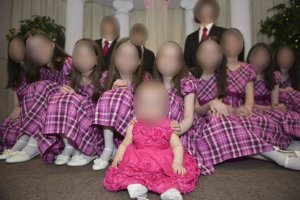 When deputies responded, she showed them photos supporting her claims that she and her siblings were being held captive, prompting them to go to the home in the 100 block of Muir Woods Road to conduct a welfare check.
Inside, they were met by "horrific" conditions, authorities said at the time, noting the home was "extremely dirty" and had a "very foul smell." The children appeared to be malnourished and filthy, and generally looked much younger than their ages.
After the couple was arrested, the children were sent to separate medical facilities for treatment. They stayed at their respective facilities until mid-March, when they were discharged and taken to three separate homes in Riverside County.
The Turpins have pleaded not guilty to more than 40 charges each, including torture, false imprisonment and child abuse.
David Turpin had also entered a not guilty plea to a count of lewd conduct with a minor. Details of the alleged sexual incident emerged in court Thursday, when Campos testified that the girl told police of one occasion when her father pulled her pants down, grabbed her and put her on his lap. She tried to push him away and managed to pull her pants up, according to the deputy.
The father also tried to kiss her on the mouth about 10 different times and told the teen not to tell anyone, Campos said.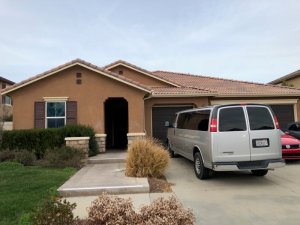 Additionally, David Turpin has also been charged with eight counts of perjury in connection to the school he said he ran at his home, called Sandcastle Day School. Turpin is accused of filing a private school affidavit with the California Department of Education from 2010 to 2017, certifying that his children were receiving full-time education.
Louise Turpin also faces a count of assault with force likely to cause great bodily injury. The defense had requested the charge be reduced to a misdemeanor, but that request was denied by a judge, according to Riverside Press-Enterprise reporter Brian Rokos.
The crimes they're charged with date back to 2010, when the family moved to Murrieta from Texas. Altogether, the couple faces trial for 49 counts.
A judge dismissed one count of child abuse/endangerment involving the youngest child, according to John Hall, a spokesman for the DA's office.
Both were being held in lieu of $12 million bail, according to court documents.
They are due back in court for their arraignment on Aug. 3.
KTLA's Melissa Pamer and CNN contributed to this article.