This is an archived article and the information in the article may be outdated. Please look at the time stamp on the story to see when it was last updated.
A Tustin man was sentenced to 44 years in prison for kidnapping and raping a 21-year-old woman who gave him a ride home from the grocery store just over four years ago, the Orange County District Attorney's Office announced Monday.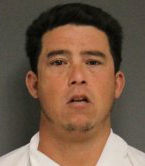 Michael Curtis Hernandez, 41, pleaded guilty to four counts of forcible oral copulation, two counts of forcible rape and counts of sodomy by force, sexual penetration by foreign object and false imprisonment by violence or deceit, prosecutors said.
The former construction worker had an "extensive history of prior arrests," police have previously said, before he kidnapped and sexually assaulted a woman in 2013.
On Dec. 1 of that year, Hernandez approached a woman who was walking out of a grocery store in Orange at around 6:20 p.m. in the evening and asked her for a ride home, prosecutors said.
The woman agreed to take him to his home in Tustin, prosecutors said, but Hernandez forced her into his home once they got there.
Once inside the home, he forcibly raped the woman and repeatedly sexually assaulted her, prosecutors said.
Nearly seven hours after he first approached the victim, at about 3 a.m. the following morning, she managed to escape Hernandez's home and reported the assaults to the Tustin Police Department, prosecutors said.
The brutal attack was not the first time Hernandez had kidnapped or sexually assaulted someone, having been charged with those crimes and counts of false imprisonment in the past.
He was charged with felony kidnapping, felony false imprisonment, misdemeanor sexual battery and misdemeanor molestation of a child in Riverside County back in 2003, only being convicted of the kidnapping charge with the other counts dismissed, as the Orange County Register reported.
He was also charged with felony assault with the intent to commit a felony, misdemeanor false imprisonment affected by violence or fraud, and misdemeanor aggravated trespassing in Orange County in 2009, but pleaded guilty to the misdemeanors and had the felony charge dismissed, the Register reported.