This is an archived article and the information in the article may be outdated. Please look at the time stamp on the story to see when it was last updated.
Tustin Police used a GPS device hidden in cough syrup to arrest two men who allegedly broke into a pharmacy this month, officials said.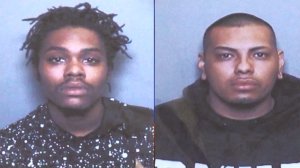 In response to a rash of burglaries targeting a prescription cough syrup used to make a popular cocktail known as "sizzurp," crime analysts determined which pharmacies they believed would be targeted and worked with employees to set up devices in those locations to help track down the thieves.
Creative Compounding Pharmacy along Newport Avenue was burglarized about 2:30 a.m. Nov. 10 and the suspects happened to steal one of the bottles of cough syrup that had a GPS device inside, officials said. That led authorities to the alleged burglars, Willie Clark, 21, and Brian Salinas, 20, who were arrested in Rowland Heights within a matter of days.
Clark has pleaded not guilty in the case, but Salinas has not been arraigned, according to court records.
Lt. Robert Wright said the department has used the method before with similar results.
"We've used it to target whatever crime we're seeing an uptick in our city," Wright said.
Denise Taylor, who owns the pharmacy, was in on the plot and said it made for a "great ending" when the suspects were arrested.
"I was very hopeful driving in at 2:45 a.m. that they would eventually be able to catch the people who did break in," Taylor said.